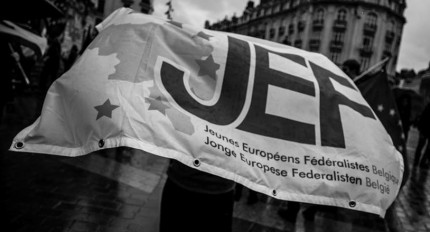 The Young European Federalists in Belgium (JEF Belgium) are carrying through with some activities in the run-up to the European Election 2014. Below you can find some events that JEF Belgium organised or participated in.
Among the activities that have taken place there were five debates, aimed to attract young people, inform them about what is at stake in Europe in the run-up to the elections and let them debate with MEPs on these topics. In addition to this, JEF Belgium also organised their annual Training Days, which were partly focused on the EP Elections this time as they organised a simulation on how to make your very own political campaign.
JEF Belgium has also prepared the project 'Schoonmoeder Aller Verkiezingen' in which they inform, train and enthuse young people about and for the elections and give them the opportunity to make their own 'campaign' to make the voice of youngsters heard. The part of the group of young people that choose the European Elections as there main field of interest, were trained by JEF Belgium to strive for their ideal European policies through making their very own campaign. This project also entails the production of an educational game 'Eurowa?! Euroquoi?!' on what impact the EU has on our daily lives and a big debate with politicians in the Flemish Parliament on the 30th of April. Check the program out in the Ducth version!
JEF Belgium will be watching the debate of Maastricht on the 28th of April in Ghent (organised by JEF Ghent) in cooperation with the University as well as in Brussels at the 'Place Lux' (organised by JEF Brussels). 
Stay tuned to the JEF belgium website to keep inform about their events.