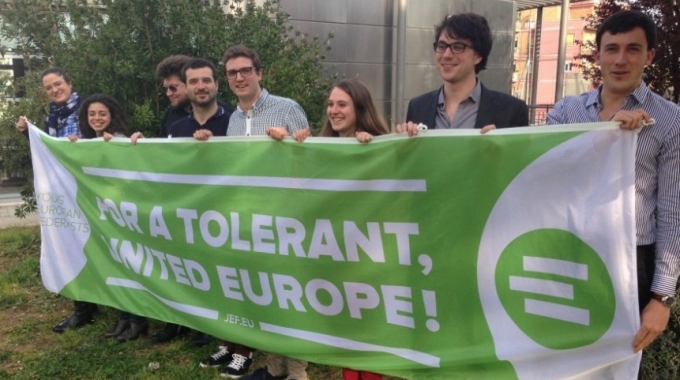 From the 29 April until 19 May the MovEurope2014 bus tour is taking place, touching down in Brussels, Maastricht, Münster, Vienna, Bratislava, Budapest, Zagreb, Milan, Barcelona and Strasbourg. To join fill out the form below.
At each stop the bus team in cooperation with local JEF sections and partners will organize a variety of public events around the European Parliament elections. Together we will organize debates and conferences, flash mobs and activities that bring together candidates and citizens.
We are now looking for motivated young people aged 18-35 years who are interested in engaging with citizens all across Europe and encourage them to take part in the European project by voting and making their voices heard.
We want to include as many people as possible in the team of the MovEurope bus tour, which is why it is only possible to take part for a section of the tour and not in the entire trip.
You can choose between the following
29 April – 5 May Brussels-Maastricht-Münster-Vienna-Bratislava
6 May – 12 May Bratislava-Budapest-Zagreb-Milan
14 May – 19 May Barcelona-Strasbourg-Brussels
What we offer:
– A great experience of working in a dynamic team of young people
– Full accommodation and board during the trip
– You get to see a big part of Europe
– Experience in event organising
– Enlarging your European network
Application open to EU citizens and non-EU citizens holding a valid Schengen-Visa.
***DEADLINE TO APPLY IS TUESDAY 15 APRIL 2014 23h59 CET***
After reviewing the applications, successful candidates will be notified by 17 APRIL 2014