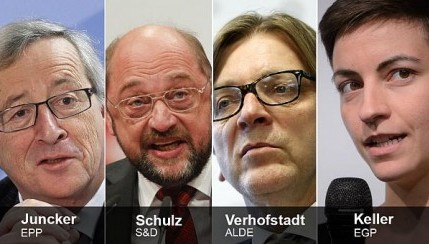 For the first time in the history of Europe candidates for the position of Commission President will campaign for the European political party families. Presidential debates between the contenders have been organised and will be live-streamed. So why not organise debate watching parties over Presidential debates?
Three debates are planned. 
The first one will be in April 28, 7pm in Maastricht, organised by Maastricht University in cooperation with the European Youth Forum (for more info have a look at our blogpost). The second one will take place on May 9, 7:30 pm in Florence, and the third will be on May 15, 9pm (time to be confirmed), in Brussels, organised by the European Broadcasting Union (EBU) and Euronews.
Please inform us of your debate watching party by sending a mail to EPelections@jef.eu with the information of where it takes place, when you want to start and who is the contact person until April 24 (for the 1st debate), until May 5 (for the second one) and until May 12 (for the third one).
Electoral evening
We also plan to organise an electoral evening on the last evening of the European elections (25th May) to give a true European perspective to the results and comments. The idea will be to connect, in each country, one group of JEFers, partners' organisations' members, citizens, following their national results with other groups all over the EU, following the Eurovision style format: "Rome calling London". The groups will share their national results and comment on social media the results with a European perspective, as well as they will be connected through Skype to hear each other's.
If your section is willing to coordinate a national gathering for this evening, please contact EPelections@jef.eu before 1st May.
Click here to see the Federalist Bingo for the Presidential Debate.