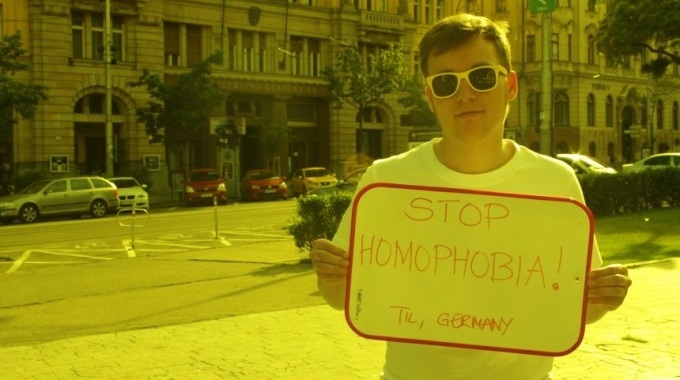 Tilmann Hartung currently studies Middle East studies and political sciences in the German city of Halle (Saale). He is an active member of JEF Sachsen-Anhalt (Saxony-Anhalt).
The European elections this year marked a watershed for me, personally. I cast my vote in the elections in 2009, but I was not really aware of the European project nor as interested and predispositioned to it back then as I am now. I joined the Young European Federalists last year and assumed responsibility for the social media campaign of my local JEF section in Germany and was therefore involved in the German "Europaretter" campaign towards the European elections in the end of May 2014. Hence, I knew quite well what young people in Halle (Saale) and Saxony-Anhalt were thinking about Europe, the EU, what kind of claims they were putting in, demands they were making and wishes they were expressing. But what was the virtual European perspective? Are the people on the other side of the national border differently minded or could they relate to a mainstream youth stance? Bearing this personal motif in mind, I joined the MovEurope bus tour on its path through Eastern and Central Europe, from Bratislava (Slovakia) via Budapest (Hungary) and Zagreb (Croatia) to Milan (Italy).
Nearly 400 million European citizens were called to the polling booth, but the voter turnout was very volatile. The turnout is seen as a critical test for a European democracy, and it has fallen steadily and consistently since 1979, from 62% in the first election in 1979 to 43% in the 2009 election to more or less unimproved 43.1% in 2014. The countries that suffered the most from the crisis turned up to the polls in force, with Greece hitting 57.4%, Ireland 51% and Italy 60%. Slovakia posted the lower score with only 13% of voters turning up. Also Slovenia (21%) and Croatia (24.3%) came off badly.
In order to overcome the democratic deficit of the European Union, a personalised election should bring a sincere political alteration and a state of flux.
The appointed "Spitzenkandidaten" of the European parties are believed to having drawn the attention of people towards European policies by presenting a clear face and name which advocates certain political goals. Raising awareness for the European elections and discussing with young people on a local level became a lot easier this way.
Our European MovEurope bus team with me as a representative of JEF Germany in conjunction with local JEF sections did not only engage in discussions with young citizens, but also set up a stand with an artistic photo installation and games about history and geography of the EU.
By conducting our campaign with visible tools, we were able to create our own "European village" at every stop and attracted many people. It was interesting and illustrative as well to get to know all these different opinions and mindsets about European issues, starting from a very individual point of view.
Of course, Germans do not necessarily share the same fears or needs their European neighbours in Slovakia, Hungary, Croatia and Italy do, but acting as one entity requires to respect each other and to reduce the agenda to a common denominator. On the other hand, the personal messages on the photo wall showed impressively that young Europeans pull together to stand up for the same vision of a common future. One was more in favour of a social rights consolidation, while the other focused on the strengthening of human rights. One asked for employment creation, while the other defended the continuation of Erasmus grants.
During our journey through Europe, our team passed through many national borders and sometimes even had to change the currency. Needless to say that in every country another official language was spoken. Nevertheless, young people like us and like the people we met whilst campaigning in a pan-European manner do not know our Europe without peace, with borders, they know by contrast how to communicate in English, French or German. Even the implementation of the Euro currency dates meanwhile back to 2001, 13 years ago. We are lacking a clear European vision for our future that enriches and completes our political union. Values such as the Schengen area, freedom and our single European domestic market are keystones of our project of European integration, but it cannot be the finish line. Most of the young people I spoke to were aware of this and agreed. They do care and they have concerns and ideas! Despite euroscepticism and populism on the rise in parts of our continent, our future lies ahead in collaboration and team play, I suppose.
Naturally our team of committed volunteers had to face prejudices about technocracy and bureaucracy in far Brussels, non-voters denying our arguments and a variety of cultural backgrounds and different political affections. After all, we dedicated ourselves for our common Europe and I am cocksure we had an impact on the young people we talked to and on the places we have been to. I am happy and proud that I could contribute by being a part of this important project, the MovEurope bus tour. To put it in a nutshell, I want to quote Conchita Wurst, the Austrian winner of the Eurovision Song Contest 2014: "We are a unity and we are unstoppable!"