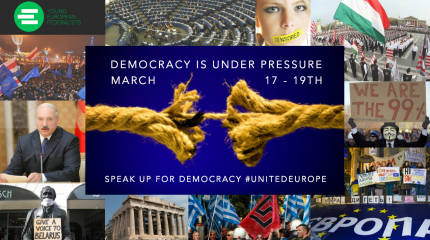 WE HAVE NOT FORGOTTEN BELARUS BUT THIS YEAR IT'S DIFFERENT
For eight consecutive years the Young European Federalists (JEF Europe) have organised the pan-European "Free Belarus Action" in numerous cities across Europe on the 18th of March. This is still important, but this year it is different, and unfortunately we can not focus solely on Belarus. Democracy is under pressure all over Europe. The threat to democracy is not only coming from dictators in post-Soviet states, but from various groups and situations all over the continent. In Belarus the status-quo has been grave for years, in Ukraine violence erupted at the end of November last year, and all over Europe democracy is threatened by the rise of nationalism and extremist parties.
On the 17th – 19th of March, all over Europe, the Young European Federalists will symbolically silence statues to draw attention to the fact that still so many Europeans are denied their right to be heard.
You can show your support and upload a photo with a message for Ukraine here. Stay tuned and take a look at twitter and facebook account of Democracy Under Pressure action.