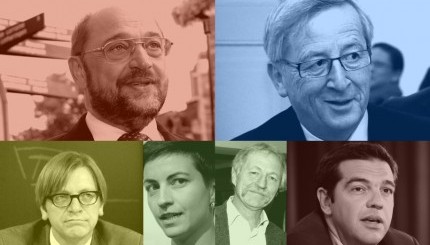 Six candidates have been put forward by the various political factions in the European Parliament. Debating Europe has profiled each of them in turn, so you can learn more about them and decide who you will support in the May elections. Don't forget to show your support for your preferred candidate by voting for them in their Debating Europe Vote 2014!
Still, one of the most common criticisms of the EU is that the President of the European Commission (the head of the EU's executive branch) has traditionally been an unelected appointee. But this time, according to the European Parliament's official 2014 election slogan, "…it's different".
For the first time ever, European political parties will be putting forward candidates for the position of President of the European Commission, giving citizens a real say on who runs the EU's executive arm.
The debate can be streamed live from Euronews live feed on monday 28th of April @19.00
Debate watching parties
The Young European Federalists of Belgium will be watching the debate of Maastricht on the 28th of April in Ghent (organised by JEF Ghent) in cooperation with the University as well as in Brussels at the 'Place Lux' (organised by JEF Brussels).