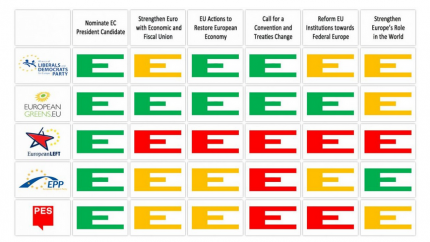 Developed as a joint action of the Union of European Federalists (UEF) and Young European Federalists (JEF), the Federalist Scorecard compared European political parties' Manifestos to UEF's Manifesto and JEF's Political Platform for the 2014 European Parliament elections. The five main European parties, EPP, ALDE, PES, EGP and EL are rated and their respective manifestos compared to the demands set in the Federalist Pledge addressed to MEP candidates.
The Federalist Scorecard outlines their positions on European Commission Presidency, Eurozone crisis, economic governance, institutional reforms, treaty change, and EU's role on the global stage.
Consult the Federalist scorecard here!