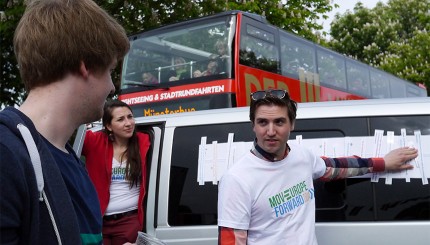 On May the 1st the MovEurope bus stopped in Münster, a city situated in the mid-west of Germany. The local JEF-section, JEF-Münster, warmly received the MovEurope bus team and together they organised a long and successful activity day. The activities took place on the square right in front of Münster Castle, where many people passed by during the day. Lots of young people took part in the activities as well as families with children and some older people.
Activities like our European map puzzle, our European history quiz as well as our artistic installation – showing people on a picture holding up their wish for Europe – turned out to be a great success. Reactions regarding the MovEurope bus tour were very positive. The MovEurope bus-team had a lot of interesting exchanges about European issues with the people participating in the activities. Next to people being convinced Europeans, of the team also got into contact with euro-sceptics which gave way for interesting debates. These discussions permitted the team to really exit the "European bubble", trying to convince them of the positive sides of the European Union and its political, economic and cultural importance for its member states and citizens.
With the support of JEF-Münster the whole event turned out to be a real success, having not only the possibility to have a good infrastructure with a big stand and barbecue but the event also attracted a lot of media: the two regional newspapers, the Westfälische Nachrichten and the Münstersche Zeitung came as well as the university newspaper and RadioQ the campus radio.
Thank you very much JEF-Münster for all your organisation and help! You are a great local section!