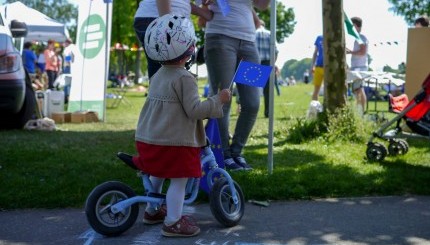 After three weeks on the road, moving Europe forward, the MovEurope bus team reached its last stop: Strasbourg.
MovEurope Forward activities
The bus activities took place in "Jardin de deux rives" at the end of the bridge separating France and Germany. The activities were part of the Villages Européens, organised by Young Europeans France, to promote the European Parliament Elections.
The location was perfect, not only because it was Sunday so young people, families with kids and older people passed by the MovEurope stand, but also because of the nice and sunny weather. All of this, allowed the MovEurope team to reach a lot of people and to engage them into discussions about Europe. The team challenged people with a quiz on the History of Europe as well as the artistic installation caught people's attention.
Catherine Trautmann, former mayor of Strasbourg, and a member of the European Parliament, wanted attend to the Village Européens and support young people in the fight for better Europe.
On the other side, the team was very surprised to encounter a lot of sceptics and people disappointed with politicians who claimed openly that they are not going to vote in the next European Elections. The MovEurope team was quite surprised about that because of the location, Strasbourg, which is the official seat of the European Parliament.
The MovEurope team want to thank you JEF Strasbourg for their help and well organisation as well as the two surprise visits from Sven Bisang, JEF Switzerland, and Pauline Gesssant, President of JEF Europe.