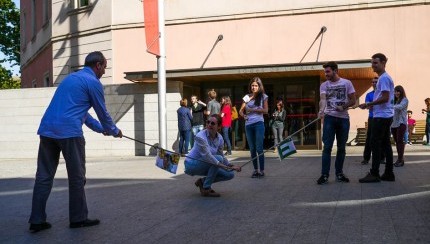 Driving through Italy and France, the MovEurope bus finally arrived in Barcelona on the morning of the 14th of May where the team was again complete after two new volunteers joined it.
MovEurope Forward activities
The MovEurope event took place ont the afternoon of the 15th of May at the University Pompeu Fabra. The team was warmly welcomed by JEF-Catalunya and JEF-Barcelona who had motivated a lot of their members to participate and they did a great job in helping out in the bus tour activities. The team set up the interactive stand in the square of the university and started with the activities.
The map of Europe game, the history of Europe quizz and the artistic installation had a lot of success! We collected many wishes for Europe from the youth as most of the students in Pompeu Fabra spoke fluently English. The language barrier removed, we managed to convey our message about European elections more easily and noticed that Pompeu Fabra students were very open minded, receptive and willing to engage in activities and discussions.
Despite the fact that most of the students were going to classes, and although the tent couldn't be situated in the center of the university square, the team, with the great help of JEF-Catalunya managed to move the activities to the meeting point in order to engage and involve even more students. Students showed a lot of interest in Europe, took the time to take part in the event during their breaks and all in all, this day represented on of the most fruitful bus tour events since the beginning.
Presidential Debate watching
In the evening, the MovEurope team gathered with JEF-Catalunya at the Espai Ferrer i Guàrdia to have a debate watching party with youth. It was very well organised and around 50 young people attended the event to watch candidates fight for the presidency of the European Commission.