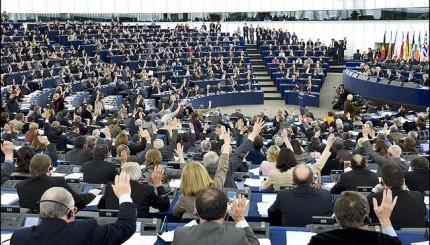 Groups in the European Parliament are different from national parties as they consists of members from several different parties from several member states. Every MEP either belongs to a group or is registered as "Non-attached". Some MEPs changes group during their time in the European Parliament.
The EPP is Europe's centre-right political family. It strives for a Europe of values close to the people and based on democracy, transparency and responsibility, as well as prosperity through the promotion of a social market economy.
As the political heirs of the EU's founding fathers, the EPP includes 74 parties from 39 countries. It has the largest Group in the European Parliament and most heads of state and government of any political family in the European Council, as well as members in the Commission.

Progressive Alliance of Socialists and Democrats Group (S&D)
The S&D Group is the leading centre-left political group in the European Parliament and the second largest, with 195 members from all 28 EU countries. It stands for an inclusive European society based on principles of freedom, equality, solidarity, diversity and fairness.
Their MEPs are committed to fighting for social justice, jobs and growth, consumer rights, sustainable development, financial market reform and human rights to create a stronger and more democratic Europe and a better future for everyone.

 Alliance of Liberals and Democrats for Europe Group (ALDE)
The Alliance of Liberals and Democrats for Europe (ALDE) Party is the party for liberal democrat values in Europe. With more than 55 liberal member parties across the continent, it is translating the principle of freedom into politics, economics and all other areas of society.
Founded in 1976 before the first European elections, it was established as the first true transnational political party in 1993. The ALDE Party provides an increasingly vital link between citizens and the EU institutions, and continues to grow in size and significance.

 European Conservatives and Reformists Group (ECR)
The European Conservatives and Reformists (ECR) is a euro-sceptical and euro-realist conservative political group established in July 2009 on the initiative of the British conservatives who were previously in the PPE/EPP group.
They believe it is time to make Europe work again: both economically and for its people. Bringing together MEPs from 11 EU countries, they are currently one of the medium-sized groups in the European Parliament, similar in size to the Greens and the Liberals.

 Greens/European Free Alliance Group (Greens/EFA)
The Greens/European Free Alliance is a political group in the European Parliament made up of Green MEPs and MEPs from parties representing stateless nations and disadvantaged minorities. The group was established in July 1999, when these two progressive European political families agreed to join forces in the European Parliament.
Greens/EFA is currently the fourth largest political group in the European Parliament, with 58 MEPs from 15 countries. Ensuring gender balance is a priority for the group: there are 28 female and 30 male MEPs, while the group also has male and female co-presidents.

 European United Left/Nordic Left Group (GUE-NGL)
European United Left – Nordic Green Left (GUE/NGL or EUL-NGL) is a left-wing political group established 1995. It is composed of traditional communist parties, reformed socialist parties and associated left wing forces.
It is a confederal group which has the vision of a socially equitable, peaceful and sustainable European integration process based on international solidarity.

 Group Europe of Freedom and Democracy (EFD)
Europe of Freedom and Democracy (EFD) is a right-wing eurosceptic political group formed after the European Parliamentary elections in 2009.
Here you will find more information about the European Political Parties.